Doyle Brunson - Super System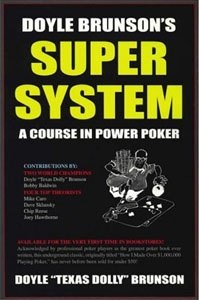 Writer: Doyle Brunson and other contributors
Title: Doyle Brunson's Super System
Year: 1979
Who should read this book: Everybody who want to learn the fundamentals in Texas hold'em and other poker games by some really experienced pros.

Doyle Brunson's Super System - A Course In Power Poker is one of the classics among poker books. There are some that means that the book is obsolete in some ways, but this book could still give lots of poker wisdom to a reader.

Besides the chapters by Doyle Brunson there are many other famous poker players that contributes: Mike Caro (Draw), Chip Reese (Seven-card Stud), Joey Hawthorne (Lowball), David Sklansky (Seven-card Stud Hi/Lo) and Bobby Baldwin (Limit hold'em).

In the year of 2004, Super System II, a follow-up to Super System, would be published and this time would poker pros like Daniel Negreanu and Jennifer Harman be involved.