James Sweeney - Unfolding Poker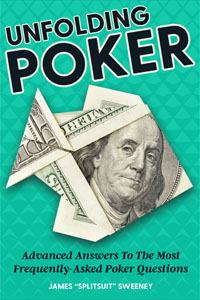 Writer: James Sweeney
Title: Unfolding Poker. Advanced Answers To The Most Frequently-Asked Poker Questions
Year: 2017
Who should read this book: Beginners to intermediate players that are mostly concerned about cash game.

In Unfolding Poker, James "SplitSuit" Sweeney (poker player and co-founder of the training site Red Chip Poker) makes an effort to create expert answers to typically asked questions by many players (the subtitle is Advanced Answers To The Most Frequently-Asked Poker Questions).

So, even that this book focus on general strategical approaches, it differs from other general strategy poker books by its concept with relative short chapters that centers around specific questions.

The questions can be wide as how to play on short-handed versus long-handed tables and narrow like how to get the most out of poker training videos, especially when the messages seem to divide. The writer touches a few subjects that you most unlikely will find elsewhere.

If you are curious about more of the questions, here are some additional ones:
"I Understand that I should continuation bet when I am the preflop aggressor: But players keep calling me and I keep having to check-fold the turn. What should I do?"
"My live room runs several high-hand and BBJ [bad beat jackpot] promotions that induce players to call with much wider ranges preflop. How should I play in this kind of game?"
"What does it mean to ´run it twice´? Should I be doing this?"
"I have been playing poker for a while but I am new to studying it. How should I study in between sessions to improve the fastest?"
"How do I know what level my opponents are on? I constantly run complicated plays against unsophisticated players and I lose many pots because of this… " 
Some of the subjects are at fundamental levels, such ones that can be found in several books and even more articles online. If you have read a few books and articles as well about poker, you will probably enjoy the smaller subjects found here.

Given the outlines of the content, the main strength of this book is kind of obvious: you can get information about specific wonder that have emerged from your own poker experiences. From the book's set-up, you save time when you don't have to read 300 or 500 pages which just partly would be essential for you. If something should be criticized, is it that the book could be a bit longer (it is 135 pages).

Unfolding Poker is available as eBook and audiobook. It can be ordered directly from the publisher's website splitsuit.com.