Nelson, Streib and Heston - Kill Everyone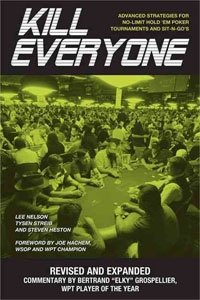 Writer: Lee Nelson, Tysen Streib and Steven Heston
Title: Kill Everyone
Year: 2009
Who should read this book: Poker players who want to improve in tournaments and sit n gos.

Kill Everyone - Advanced Strategies For No-Limit Hold'em poker tournaments and sit n go's delivers an updated view of poker strategies for multi-table and single table tournaments. The latest edition is also expanded with very interesting comments by the French poker pro Bertrand "Elky" Grospellier.
The strength of this book is the feeling of the advices as up to date with the poker that you will meet today playing tournaments online or live - the chapter "New School Versus Old School" gives an overview about the changing's on the poker tables. The strategies in this book are very aware of the new playing styles included the aggressive ones.

In Kill Everyone you will learn about small ball poker, equilibrium plays and advanced concepts like CPR and CSI. There are many advanced concepts in the book and it is surely a great source even for savvy players. The book gives a detailed view of the conditions near the bubble and explains the bubble factor. Also, how to handle bubble situations when many players are short-stacked and the only viable alternatives are push or fold.