Dalla Nolan and Peter Alson - One of a Kind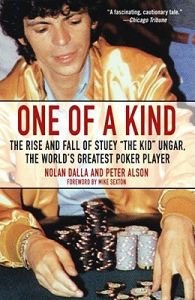 Writer: Dalla Nolan and Peter Alson
Title: One of a Kind
Year: 2006
Who should read this book: Everybody who is interested in the life of Stu Ungar.

This is a great biography about one of the best poker players of all times: Stu Ungar. The book gives insights of the childhood of Stuey, who lived with a father who was a bookmaker; and it goes on with how Stu he got in touch with the mafia and came addicted to drugs. And of coarse, it's about the card players, the genius who won the World Series of Poker two times in a row.
All book reviews