Collin Moshman - Sit 'n Go Strategy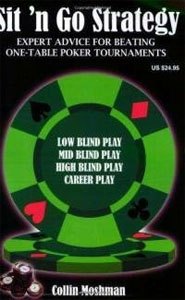 Writer: Collin Moshman
Title: Sit 'n Go Strategy: Expert Advice for Beating One-Table Poker Tournament
Year: 2007
Who should read this book: All poker players who want to learn how to make money from sit n gos.

Collin Moshman presented himself in 2007 as a prominent poker writer with this book, which probably is the number one work about sit n gos strategy. The main chapters are titled: "Low-Blind Play", "Mid-Blind Play" and "High-Blind Play", and some of the concepts Moshman give more depth to is Chip expected Value, The Aggression Principle and The Re-Steal.

In the same manner as the writer did in his later book Heads-Up No-Limit Hold 'em (2008), he gives us broad perspectives in Sit 'n Go Strategy, and there are few players who don't know a lot more about sit n gos after reading this one.
All book reviews