Crushing The Microstakes - Nathan Williams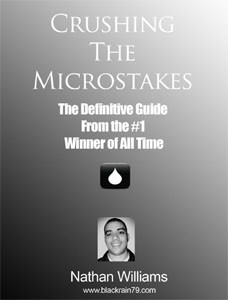 Writer: Nathan "blackrain79" Williams
Title: Crushing The Microstakes. The Definitive Guide From the #1 Winner of All Time
Year: 2011
Who should read this book: Poker players stuck on microlevels who wants to develop their game.

I first got familiar with the poker player Nathan Williams, a.k.a. "blackrain79", after reading about some of his extraordinary ideas about pre flop raises, which included 8 times the BB with some hands on microstakes. And like everybody else I was fascinated by his enormous hand volumes on microstakes, plus the fact he had made a big profit. The thing is that Nathan Williams is known for being the biggest winner ever on the microstakes online.

In his book Crushing the Microstakes Nathan explains in details how to succeed at the lowest stakes online: NL2 and NL5. Everything from the preparations, concerning HUD configurations and table selection, to exactly how to play in different situations are covered. Some of the specific areas are:
Range
Play against limpers
Pre flop raise sizes   
Set mining
Extraction
Crushing the Microstakes is that the title says: about microstakes. If you are playing at higher limits this book could still be useful, but maybe not the first choice. If you are playing at the lowest limits, on the other hand, this is one of the best readings you can get your hands on.

Even that the book is about the absolute lowest stakes it cannot be regarded as a book for beginners. It's not about learning to play poker, but learning to get good at it. As the writer points out in the book, it is not certain that a relatively good player are winning on microstakes.

One of the best things about this book is that the advices given actually works. They are handed over from a well-known player – and as far as I can see he doesn't save the secrets for himself. Nathan Williams is also transparent with his win rate and result, which makes it even more interesting and concrete.

The book can only be ordered from the author's website blackrain79.com.