Phil Hellmuth - Play Poker Like the Pros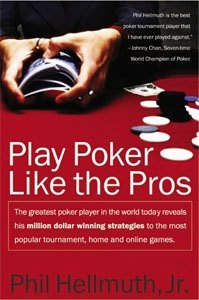 Writer: Phil Hellmuth
Title: Play Poker Like the Pros
Year: 2003
Who should read this book: Novice and intermediate players who want to learn more about poker games like Texas hold'em (especially Limit hold'em), Omaha and Seven-card stud.

Phil Hellmuth is the best tournament players in the history, at least if you count World Series of Poker bracelets - Hellmuth has won twelve. In his book Play Like the Pros, he introduces us to his theory of Limit hold'em and his four categories of playing characters: "The Jackal", "The Elephant", "The Mouse" and "The Lion".
All book reviews