David Sklansky - The Theory of Poker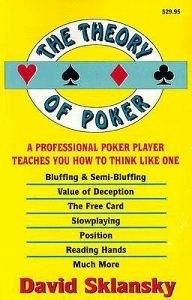 Writer: David Sklansky
Title: The Theory of Poker
Year: 1987
Who should read this book: Ambitious novice and intermediate players who want to improve their poker game in general.

The first edition of The Theory of Poker was published in the year 1987 and has ever since been one of the most read poker books. So it is really one of the best, and therefore still studied, now in the third edition.  

The writer David Sklansky is acknowledged as one of the absolute best in the field of poker theory and has written lot's of books about the game.  The Theory of Poker is among the books of his that must be ranked in the top. When professional poker players are asked which book that meant most to them, this book is often mentioned.

Why is The Theory of Poker a must-read? Primarily because the book includes several essential strategic elements in poker and also that the content isn't just a repetition of known stuff. The content is also presented in a great way that give the reader insights in the logical thinking of poker.

Some of the more important subjects being discussed are pot odds, effective odds, implied odds and reversed implied odds. Above this, we are given detailed information about the theory of the semi bluff, the check raise and the free card and lots of other things.

When the book was originally released Seven Card Stud was very popular and this can be noticed by a lot of examples regarding this variant of poker. Those who plays Omaha exclusively will not find any examples at all about this specific variant, which has been popular in later days in the USA. Texas hold'em is often used in the game examples, and sometimes also Razz and 5 Card Draw.
All book reviews