Gambling Theory and Other Topics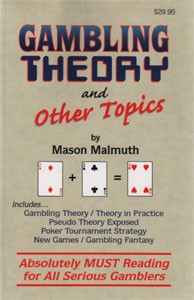 Writer: Mason Malmuth
Title: Gambling Theory and Other Topics
Year: 1987
Who should read this book: Everyone that are interesting in various aspects of gambling.

Gambling Theory and Other Topics is a book with many subjects – the writer Mason Malmuth investigates theories, misconceptions and winning concepts in poker, blackjack, sports betting and even lotteries. The perspective and the method are mostly mathematical and for readers interested in various gambling fields, this is truly a recommendation.

A minor drawback is that the text does sometimes repeat itself around some concepts. This may not be the writer's fault, but the fact the book is a collection of standalone essays.

Some of the subjects of Gambling Theory and Other Topics is "Non-Self-Weighting Strategies", Standard Deviation, Win Rate Accuracy, Pseudo Theory Exposed, Poker Tournament Strategy. This and many other things will be found among the six parts of the book consisting in almost 100 articles.

In 1999, Mason revised the book, but in the latest edition from 2004 (that is the object of this review) some parts – especially these concerning poker – sometimes feels a bit outdated. Nevertheless, this book has undoubtedly some very important wisdom to share that still would benefit people who are serious about gambling.
All book reviews