Pocket pairs and how to play these hands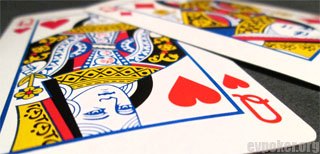 A hand consisting of a pair dealt to a player in Texas hold'em is called pocket pair. It's common to divide these hands into three groups: low, medium and high pocket pairs.
The mathematical facts
There are 78 different combinations of pocket pairs in Texas hold'em. The math behind is simple. The 13 pocket pairs 2-2 to A-A are multiplied with 6, which is the amount of combinations per pocket pair.

Probably more interesting is that the pocket pairs make up 5,88% of all the possible starting hands. You will in other words be dealt a hand from this category approximately 1 in 17.

The other main thing to know about these hands connected to odds is the probability to hit a set or better on the flop. You will get lucky on approximately 1 in 8 flops. You will hit the jackpot – squads that is – exactly 1 in 408 flops.
Tips for playing pocket pairs
The strategical approach with these starting hands depends primary on two factors:
The quality of your pair.
Your position.
High pocket pairs
You will almost never fold a pocket pair T-T or higher. There are exceptions, though. If there are 3-, 4- and 5-bets on the flop you must consider folding hands such as T-T, J-J and perhaps even Q-Q and in some rare occasions K-K. It happens that a player folds a pocket pair of kings and if it turns out that another player had two aces it should be honored as one of the best plays that can be done in the game. Yet, K-K is a hand that shouldn't be folded pre flop against the most players.

In general, you should play your high pocket pair fast, meaning that you should raise and not just check or call. And you should in most cases continue to bet after the flop. If you hit a set, it could be a good idea to slow play.

The main reason for playing fast is that you don't want to face several opponents. A high pocket pair is a great hand, but for most times it doesn't improve during the hand and a high pair is often not good enough to win a family pot.  
Table 1. High pocket pairs vs. other hands winning probabilities

| Situation | Player 1 | Player 2 | Split |
| --- | --- | --- | --- |
| A-A vs. K-K | 80% | 19% | <1% |
| A-A vs. 8-8 | 80% | 19% | <1% |
| A-A vs. 2-2 | 82% | 18% | <1% |
| A-A vs. A-Ks | 87% | 12% | 1% |
| A-A vs. A-Ko | 93% | 6% | 1% |
| A-A vs. 7-2o | 87% | 12% | <1% |
Medium pocket pairs
Medium pocket pairs are strong hands that you should play in most situations. In early positions, however, you may consider folding. Especially, if there are players that are raising constantly pre flop. In these cases, you will often be playing pots against a single player and that decrease the pot odds. This is bad news since you need really good pot odds to call after the flop if you don't hit the set directly.

You should as a standard approach choose to raise pre flop to protect your hand. It's preferable to play heads-up with this hand category. Against many players, you need in most cases hit a set to win the pot on showdown.
Table 2. Medium pocket pairs vs. other hands winning probabilities

| Situation | Player 1 | Player 2 | Split |
| --- | --- | --- | --- |
| 8-8 vs. 2-2 | 81% | 18% | 1% |
| 8-8 vs. A-2o | 70% | 30% | <1% |
| 8-8 vs. A-Ko | 55% | 45% | <1% |
| 8-8 vs. J-Ts | 53% | 47% | <1% |
Low pocket pairs
Low pocket pair have great potential, but on the same time they are problematic. As told, we only hit a set or better one of eight flops and low pairs seldom win at showdown. Ideal conditions for playing these hands are pots with many players, which often mean that the pot odds to call on the turn and river are good enough.  
Table 3. Low pocket pairs vs. other hands winning probabilities

| Situation | Player 1 | Player 2 | Split |
| --- | --- | --- | --- |
| 4-4 vs. A-Qo | 54% | 46% | <1% |
| 4-4 vs. T-8o | 51% | 48% | 1% |
| 4-4 vs. T-8s | 48% | 51% | 1% |
Related articles: