VIP programs and their levels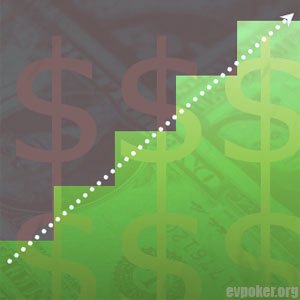 VIP programs are common among poker sites and the idea is to reward loyal players. The rewards are determined by different factors, but essentially a player turnover – in other word, how much money he wager.

Normally, there are several VIP levels and players can be upgraded to higher levels and as a consequence, higher rewards.

There is never any cost involved for players. The VIP-program are free to join and a player will often automatically become a member directly from start. That membership is, however, not especially rewarding and to get more attractive rewards the player must continue to the next VIP level.
How much do I have to play to get rewarded?
This can vary depending on the poker site you join. In many cases you will get smaller rewards like tickets to freerolls from start. As you go up a VIP-level you will perhaps get ticket to freerolls with bigger prizes and you will also get bonuses and cash rewards.

Most VIP-programs are built on a point system. You get point when you play on tables wit real money (including tournaments of course), and the points are converted to some other points which you can exchange to rewards.

Why two different points. The reason for this is that depending on the VIP-level, the points will be converted differently. As an example, to illustrate this.

A player on VIP level 1 get plays and earns 10 points, which will convert to 10 points in another point format.
A player on VIP level 2 get plays and earns 10 points, which will convert to 20 points in another point format.

Players on a higher VIP level will get points that can be exchange into rewards on a higher conversion rate.
What are the rewards, more exactly?
 Of course, you want to know in plain words that you can earn. We shall look a real example by using the VIP Club available at Betfair Poker. This is easy to get a grip on since it only involves three VIP levels.

Already at the first VIP Level, "Bronze" which you are automatically qualified for you will get the points multiplied with three. So, let us look at this.

On Betfair you get VIP Player Points (VPPs) when you play poker for money. On the second VIP level these are multiplied by three. For every €1 paid in rake you will receive 25 VPPs. And as said before, this are multiplied three times. So, in reality, you get 75 VPPs for every €1 rake.

For every 375 you will when earn €1. That means, for example, that you don't have to generate more than €5 rake on a single day to get €1 cash reward per day. That is not huge amount, but you could climb in VIP levels to get a 5.25 multiplier and the more you play, the more reward you will get.
Why are the poker site giving you money?
The poker site doesn't really give you money to be kind, but because you are a loyal player. The poker site earns money when you play, from the rake, and they ley you get rewards to keep you playing. This is no charity, but still it can be seen as a win-win situation for you and the site – as long as you don't lose more when your winnings plus your money from the VIP program.