Payment options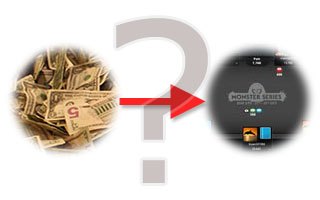 There are several methods to choose from when you want to deposit money for poker online. The most common are Visa or MasterCard, but there are other methods.
Credit card
Visa and MasterCard are the most common among credit cards and are almost always accepted by poker sites.

American Express and also Capital One are popular, but generally not accepted by poker sites.
Debit card
Among common debit cards are Visa Electron, Visa Delta, MasterCard, Switch and Solo. These are often accepted, by is not to be preferred over credit cards.
E-wallet
Skrill
Skrill (some poker sites may still refer to Moneybookers, the previous name of Skrill) are widely accepted and funds will be transferred swiftly.
Neteller
Neteller are alongside Skrill the most accepted e-payment wallet when deposit to poker sites.
PayPal
PayPal is one of the most recognized e-wallets. Yet, it not the best choice when it comes to depositing on poker sites. Some gambling sites, for example Betfair, accepts PayPal but many doesn't.
EntroPay, Paysafecard, uKash, Webmoney
These are other possible e-wallets that often work for depositing.
Cryptocurrencies
Among more recent alternatives, cryptocurrencies such as bitcoin are starting to get wider acceptance as payment options at poker sites. Notice that some sites that have launched during the last years have niche market themselves as sites that accepts cryptocurrencies exclusively. In some cases, they also have introduced their own cryptocurrencies via a so-called ICO (initial coin offering).
Western Union
This payment method can be used in over hundred countries and are accepted by many sites. Notice that it can be important that you send money in the correct currency and that you may be asked for identification documentation before your money can be used for playing.
Other alternatives
Apple Pay and Android Pay are two payment methods that have been introduced lately and seems to get more common.
Related articles: